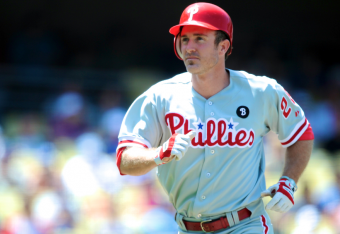 Chase Utley is one of the greatest players in Philadelphia Phillies history, yet suddenly, with a season going nowhere and an aging roster in need of a serious reboot, Utley has become one of the most polarizing players as well.
The summer is slipping away in Philadelphia, and there are months to go before a meaningful football game will be played. There is only so much talk of the offseason moves by the Flyers and Sixers that Philly sports fans can take. The Phillies, and all their warts, dominate the airwaves.
The hot topic has shifted from "buy or sell" to "who can we sell," with Utley being one of the top names—and hottest debates—on the list.
The Phillies have been the alpha dog in town since winning the World Series in 2008, mostly because the fans believed the baseball team had the best chance to bring another title to a city that has hosted just one parade in the last 30 years. People in Philly will never forget that parade, in part because it meant so much to the town and in part because of Chase Utley's epic "world f*cking champions" speech on the dais.