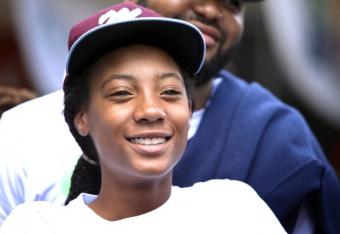 AP Images
Teenage pitching phenom Mo'ne Davis was back on the national stage during the World Series—sorry, Major League Baseball's iteration of the World Series, not the Little League version that made her famous in the first place—in an ad for Chevrolet titled "Throw Like A Girl."
Directed by Spike Lee, the 60-second television spot, which is part of a 16-minute film Chevrolet produced about the young star, features Davis reading the words of what sounds like a letter to the American public.
"Dear United States of America," the commercial begins, "I am 13 years old. This summer was the best summer of my young life."
Thirteen. That's an important thing to remember when we talk about the composure Davis has shown since being thrust into the national—frankly, international—spotlight this summer, all for having the ability to throw a baseball better than almost anyone else her age, boy or girl.