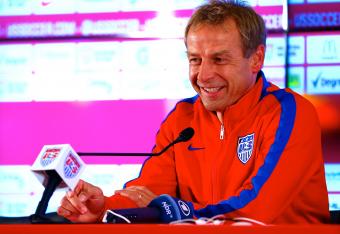 Kevin C. Cox/Getty Images
The day before the World Cup began, I was asked a question during a radio interview about U.S. national team manager and technical director Jurgen Klinsmann.
"Is he right man for the job?"
I found the question peculiar at the time, given that we were one day from kicking off a tournament that, for Klinsmann and U.S. Soccer, has been three years in the making. Hired in August, 2011, Klinsmann has rebuilt the U.S. men's national team effectively in his image—strong, fit, technically adept…and decidedly German.
The thing is, a lot of American soccer pundits and fans have questioned Klinsmann's methods since he took the job. Did he focus too much on fitness and not enough on tactics? Did he overwork his players in training, leaving them too tired for matches? What in the hell was he thinking keeping Landon Donovan off the World Cup roster?
Any manager in any country is going to be questioned, and while I vociferously disagreed with Klinsmann's decision to leave Donovan back home in favor of less skilled and/or seasoned role players—I did write the day before the announcement that if Landon wasn't going to Brazil, neither should Jurgen—the question about him being right for the job seemed like a difficult one to answer at the start of an event this big.