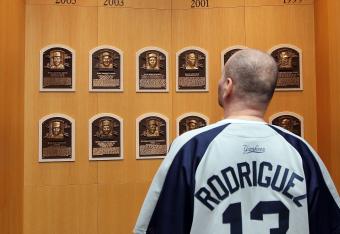 Jim McIsaac/Getty Images
Hey, baseball fans! Did you know it's Hall of Fame weekend in Cooperstown? With names like Barry Bonds, Roger Clemens, Sammy Sosa, Mark McGwire, Jeff Bagwell, Mike Piazza and Curt Schilling on the list of potential inductees for this year's Hall of Fame class, the weekend is certain to be one for the ages.
This year's Hall of Fame class includes...um, well…Hank O'Day and, uh, Jacob Ruppert and…Deacon White. It's a veritable who's who of Hall of Fame inductees, as in "who's getting into the Hall of Fame this year? Who?!"
Instead of spending the weekend reveling in the Hall of Fame speeches and talking about Bonds and Clemens and a host of players who were far and away the greatest of their generation, most baseball fans are ignoring the Hall of Fame entirely to talk more about…A-Rod.
Which got me thinking maybe Rodriguez, with a little help from Clemens, should open up his own Baseball Hall of Fame, where he can be enshrined after he retires, or is retired.