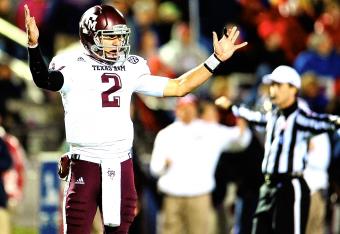 No organization, not even the omnipresent National Collegiate Athletic Association, should own a man's name.
According to a report by ESPN's Darren Rovell and Justine Gubar, the NCAA is investigating reigning Heisman Trophy winner Johnny Manziel for reportedly receiving a "five-figure flat fee" in exchange for signing hundreds of autographs on photos and sports memorabilia.
The NCAA frowns upon student-athletes using their celebrity to make money, especially if it was obtained because of one's performance as a student-athlete. A Heisman Trophy winner can become famous for being college football's best player, but the NCAA will not allow him to make any money off that fame without giving up his ability to continue playing college football.
The NCAA and its member institutions—the primary benefactors of a multi-billion-dollar industry—hold the rules of "amateurism" over every student-athlete, owning the rights to everything about them, including their name, until their eligibility is exhausted.