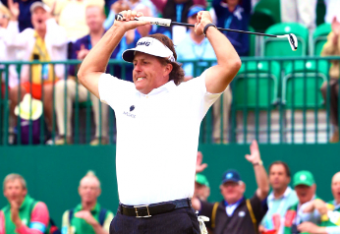 Phil Mickelson never expected to win a British Open in his career. Even after he secured the Claret Jug on Sunday with a five-under 66 that he called "probably the best round of my career," Mickelson seemed surprised, in a way, at his own excellence. During the championship ceremony, he said:
Where does the British Open championship put Mickelson on the list of all-time greats? Suddenly, he's a lot closer to the top.
Two days ago, Mickelson was still already one of the greatest golfers of his era, sitting just inside the second cut—if you will—of the best players of all time. Phil had won four major titles and had collected a career's worth of second-place finishes, including six at the U.S. Open, a major he has yet to win.
When Mickelson finished second in the 2013 U.S. Open at Merion after holding the 54-hole lead, he told reporters that all he felt was "heartbreak." No one, not even Mickelson, thought his major championship redemption would have come so soon.