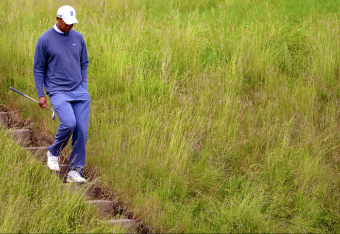 ARDMORE, Pa. -- In the days leading up to the 2013 U.S. Open, many people thought Merion was going to be too easy for these players, that this little, old, iconic patch of land tucked inside a Philadelphia suburb was no longer fit to host a tournament of this stature.
Nobody told Merion.
Through the first round—which finished Friday morning after multiple weather delays halted play on Thursday—Merion is playing every bit like an Open course. A British Open course.
With the constantly changing weather, including damp conditions and gusty winds during much of the play Thursday and Friday, Merion Golf Club feels less like a course eight miles from the Delaware River and more like a course eight miles from the coast of the North Sea.