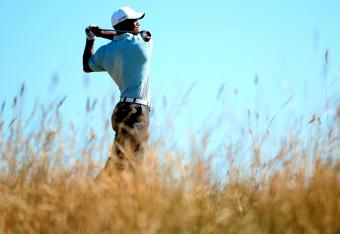 Early in his second round at the 2013 British Open, Tiger Woods hit, by his standards, a poor approach into one of Muirfield's increasingly treacherous greens. Woods chuckled and flashed a sarcastic, toothsome grin while the ball was in flight before blurting out, "aw, fffff..." as it landed.
Watching the coverage on television, viewers were unsure how that utterance finished, as ESPN's coverage quickly flashed away from the camera on Woods. The shot certainly was an "aw, fffff" moment for the world's top-ranked player, though it was one of just a few in his even-par round of 71.
At the time he finished his round, Woods was just three back of lead, with half the field still to play its second round of 18 holes at Muirfield. (Update: Woods now trails leader Miguel-Angel Jimenez by just one stroke going into Round 3.) It was a typical major championship grind for Woods, who may finally be showing signs of getting back to what typical, for him, used to be.
The conditions at Muirfield have been giving the players fits, from the change in wind direction—most players did not have a chance to practice with wind like they saw on Friday—to greens that are much faster than the players traditionally expect from an Open Championship, to rough that can reach up to the players' waists.