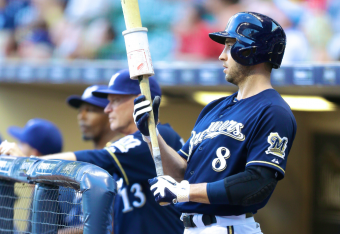 Ryan Braun is a cheater and a liar. We have known the Milwaukee Brewers slugger was a cheater for a while now, especially after years of defiance led to the acceptance of a 65-game suspension in the wake of the Biogenesis investigation.
Looking back on his legendary speech after, ahem, clearing his name during the 2012 drug suspension appeal—and the many denials before and after—is comical at this point. Everything Braun has said about performance-enhancing drugs in the past now serves to expose him as a liar.
With nothing left to lose at this point, Braun released a statement, via MLBlogs, apologizing for the cheating and the lying. And while fans of the Brewers won't forget what Braun did, they certainly can, and will, forgive him.
While a lengthy tell-all statement seems like a good start, especially after rumors swirled last week that Braun was sullying the name of the test collector by suggesting he was anti-Semitic, there is one way Braun will get Brewers fans back on his side.