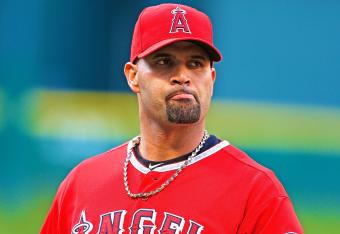 I don't know if Albert Pujols has ever taken performance-enhancing drugs. Frankly, I don't care. The Steroid Era in baseball, which rather seamlessly morphed into the PED Era, has become so much more about defending one's innocence that it could ever be about actually, you know, being innocent.
Baseball moralists—many of whom consistently looked the other way as Mark McGwire and Sammy Sosa were saving the sport in the 1990s yet seem to revel in the demise of today's cheaters with perverted delight—have a difficult conundrum on their hands: Should they believe Pujols when he defends his Hall of Fame-caliber career, or believe former St. Louis Cardinal All-Star Jack Clark, who recently accused Pujols of cheating?
Facts, in this particular drug allegation, are hard to come by. The only facts we know are that Clark went on his new radio show and accused Pujols of taking steroids early in his career, Pujols denied those claims, and Clark was removed from his radio job. That's the black and white in this story, with the rest, like everything in this era in Major League Baseball, swathed in a sea of gray.
Clark claimed that Chris Mihlfeld, a former trainer for Pujols, told Clark in 2000—when both worked in the Dodgers organization—that the trainer "shot Pujols up" with drugs earlier in his career. Clark said that he didn't know who Pujols was at the time, but Mihlfeld told him the slugger would soon be a star. Pujols debuted in the majors in 2001 and has been a star ever since.