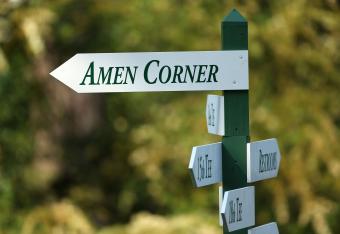 Jamie Squire/Getty Images
Every major golf course in the world has at least one signature hole. Augusta National has a signature corner.
Amen Corner, a term coined by Herbert Warren Wind in his 1958 Sports Illustrated article chronicling that year's tournament, is the stretch of play on Augusta's famed back nine that starts with the second shot on the 11th hole and continues through the tee shot on the 13th hole.
The Mystique
There has long been a certain lore to Amen Corner for the players, Augusta patrons and those watching at home. We anticipate the importance of Amen Corner every year, hoping for each shot to be a factor in the tournament's outcome. The stretch has rarely, if ever, failed to deliver.
My first vivid memory of Amen Corner growing up had to be the 1992 Masters when Fred Couples, my favorite player at the time, stuck his tee shot into the bank of Rae's Creek on the 12th hole. For some reason, Couples decided to go directly at the pin, a rather ridiculous plan for any player with the lead on the back nine on Sunday.