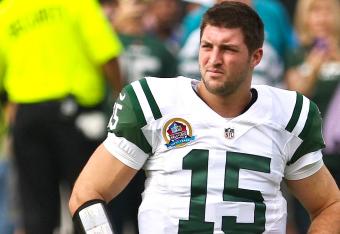 Last offseason, Tim Tebow was traded out of Denver after leading the Broncos to the playoffs for the first time in more than half a decade. This offseason, after a year-long roller coaster ride with the New York Jets, Tebow has been jettisoned again, reportedly cut three days after the Jets picked Geno Smith in the second round of the NFL draft, according to ESPN New York's Rich Cimini.
Tebow wasn't cut because the Jets drafted Smith; he was cut because he isn't good enough to be an NFL quarterback. He wasn't good enough to play for one of the worst teams in football.
Tebow is a great person, and he can use that to inspire others. Just not on an NFL field anymore.
Let's repeat that so it sinks in for the people who still think Tebow has some NFL value: He is a great person, and he has the ability to use his celebrity and esteem for incredible things, but he simply isn't good enough to play in the NFL.