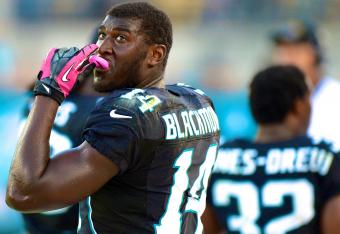 The NFL will not be beaten by demons.
Justin Blackmon is a talented wide receiver who is watching his career slip down the drain, unable to control issues in his private life that have negatively impacted his ability to catch footballs for a living.
Demons. Blackmon has demons. That's the term we've been authorized to use in this profession when we watch a player with immense talent waste it by grabbing a bottle, a pipe, a vial or whatever vice one might choose to unravel an otherwise positive trajectory in the sport and, by proxy, in life.
Blackmon's demise should be a cautionary tale for other players in the NFL. His situation should be a warning for those players struggling with their own issues to get help before it's too late—to not let the demons win. But it won't be. It never is.