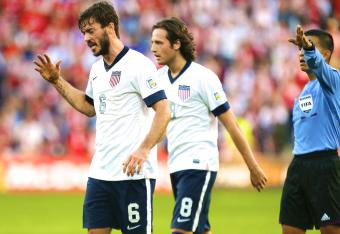 Christian Hofer/Getty Images
There are 32 teams in the 2014 World Cup final. For now, the United States only has to worry about three of them. And worry they should.
For the next six months, it's all about escaping Group G.
Germany, Ghana, Portugal or death.
"I kind of had it in my stomach that we were going to get Germany," U.S. manager Jurgen Klinsmann told ESPN's Jeremy Schaap during the World Cup draw televised coverage. "Obviously it's one of the most difficult groups in the whole draw…it couldn't get any more difficult or any bigger.