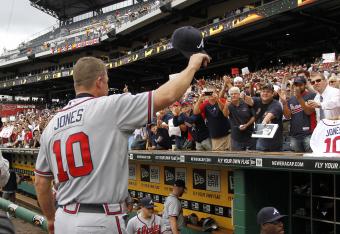 Justin K. Aller/Getty Images
Chipper Jones recorded his first Major League plate appearance on September 14, 1993, and 19 years (and three weeks) later he could be in line for his last.
It truly is fitting that Jones, who finished his regular season career with a .303 batting average, .401 on-base percentage and .930 OPS, gets to end his career with one more shot in the playoffs. Jones missed the playoffs in 2010, and most people assumed he would retire. He came back the following year, in line to make the playoffs last season before Atlanta's historic collapse down the stretch.
So back he came again this year. And at age 40, without a playoff at-bat since 2005, Jones gets one last chance at the dream of all great players: to ride off into the sunset a champion.
You want to know the problem with that dream? The new wild-card rules have made it far more difficult for Jones and the Braves—or any wild-card team—to get to the World Series.