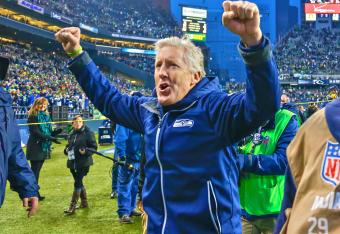 Getty Images/Otte Greule Jr.
While the NFL's 12 playoff teams gear up for the second season, the league's other 20 franchises begin the long offseason path of reconstruction and redemption. The year 2013 was unkind to many an NFL franchise, with other clubs seizing the opportunities given from the misfortune of heated rivals.
The year's most successful teams managed to stand strong in the face of adversity, winning in spite of what seemed like insurmountable challenges presented at the start of the season.
New England had one of the most bizarre and tumultuous offseasons in recent memory, but 2013 was another stellar year for Tom Brady and Bill Belichick, who are clearly still at the top of their (and the) game.
The Denver Broncos lost what felt like its entire offensive line, and all Peyton Manning did was destroy every single-season passing record he could. Green Bay, thanks to a lot of help from the failures of its division rivals, weathered the storm of losing Aaron Rodgers for far too long during the season to get back to the playoffs, inexplicably, again.