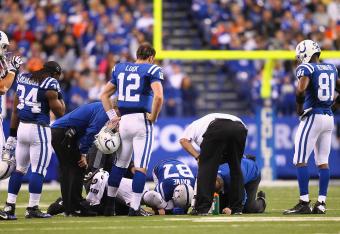 Dilip Vishwanat/Getty Images
On any given Sunday, as the expression goes, there are 1,696 active players in the NFL. And if we include practice squads, the list of NFL players grows to 1,952 across all 32 teams.
On any given Sunday, at least this season, nearly 25 percent of them are hurt.
And we're not talking in season wear and tear, either. Through the first seven weeks of the season, there are 200 players—more than ten percent of the entire league—on injured reserve.
Of those 200 players, 20 are on the IR with a designation to return during the season, which leaves 180 players—an average of nearly six players per team—officially out for the year.