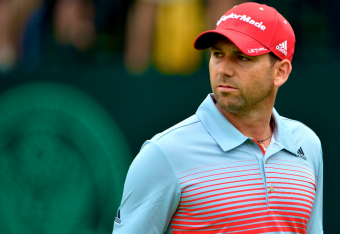 Ardmore, Pa. — Philadelphia is notorious for its passionate and opinionated fanbase, so it was expected for Sergio Garcia to become a bit of a punching bag during the first round of the U.S. Open at Merion. Through his first three-and-a-half holes before the weather horn blew, the reaction was relatively tame. In a way, it was even a little cowardly.
The 11th tee was stacked with fans early on Thursday, but by the time Garcia's group reached its first tee, the crowd had thinned considerably, mostly following Phil Mickelson, Steve Stricker and Keegan Bradley or the group after that with Matt Kuchar and Brandt Snedeker.
Still, the lure of seeing Sergio kept a good number of fans at 11, but it was, by and large, a positive reaction at the tee.
Most of the fans swallowed their inner "Philly" and acted like traditional golf fans, cheering for everyone but cheering louder for the players they actually like.