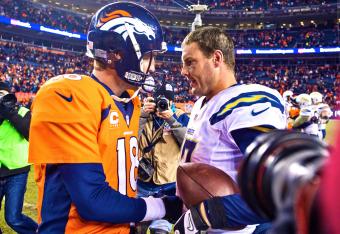 Getty Images
Eight teams are left with a chance to win the Super Bowl, and eight quarterbacks are charged this coming weekend with leading their teams one step closer to a crack at the title.
Is it that simple? Can the divisional round of the NFL playoffs be boiled down to the guys under center? Yes and no.
But mostly yes.
Certainly with all the schemes and reads and checks and packages and complexities of a modern football game, it's not as easy as a coach saying, "Hey Peyton/Tom/Philip/Andrew/Russell/Colin/Cam/Drew go out and win this game for us."
It's not that simple, but maybe it can be. This weekend—with eight quarterbacks who have been so critical to the success of their franchises this year—everything hinges on which ones will stand tall and which will falter under the playoff pressure.