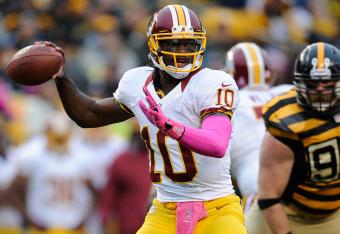 Joe Sargent/Getty Images
As the NFL has reached the halfway point of the season, give or take a few bye teams, it's as good a time as any to look at the pleasant surprises and total disappointments of the first half of the year.
Getting into the Halloween spirit, let's take a gander at some of the Tricks and Treats of the first half of the NFL season.
What rhymes with Trick? Yes, that's Michael Vick. Vick has been one of the absolute biggest Tricks of the NFL season, making Eagles fans go crazy with his questionable decisions and subpar ball security. Vick has thrown eight interceptions and has been credited with five lost fumbles on the season, and the Eagles have only played seven games!
To be fair, Vick has led the Eagles on several comeback drives this season, but those came in games Philadelphia had no business being behind in the first place. Vick's offensive line has been decimated by injuries to some starters, with others being completely ineffective. Maybe you can't blame Vick for being such a haunting Trick for Eagles fans, yet still, his time as the starter these last two years has been a lot of Tricks, with very few Treats.