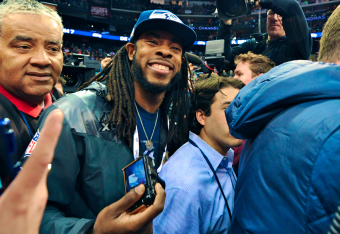 Getty Images
"Dumb questions for a smart man." That's how CNN's Rachel Nichols described the litany of queries Seattle Seahawks cornerback Richard Sherman faced during his time at Super Bowl Media Day.
This isn't a case of media ripping media, mind you. The questions Sherman answered in the 30-plus minutes I sat next to his podium were really dumb, even by Media Day standards.
There were two questions about Justin Bieber. There were questions about fashion, his hair and the women of New York City, and at one point, singer Michelle Williams came up to do a duet with Sherman and handed him an Xbox for finishing her lyrics.
As each question came in—and yes, there were some good ones, too—Sherman answered with thoughtfulness, respect and a giant smile on his face.