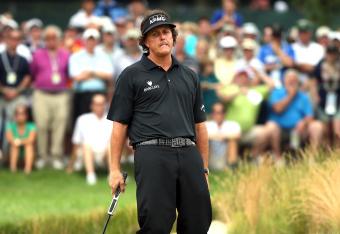 ARDMORE, Pa.—Phil Mickelson didn't get a U.S. Open Championship for his 43rd birthday like he wanted. He probably should have asked for a new putter first.
Through his 18 holes on Sunday, Mickelson used his putter 37 times on the greens. Well, he used his actual putter 36 times, as he had to use his wedge to get the ball over a ridge on the 15th hole that, technically, still counts as a putt.
Thirty-seven putts. What a horrible birthday present that was.
There comes a time in a round of golf—four rounds, if you think about Phil's entire second-place finish at Merion—where the lip-outs and burned edges on putt after putt go from making a player feel great with his putter to wanting to throw it in the quarry.