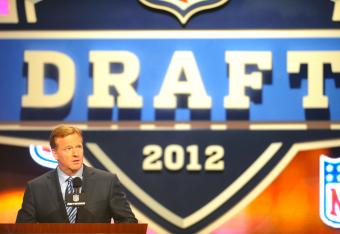 Picture this: It's the start of the NFL draft on Thursday night, and NFL commissioner Roger Goodell is sauntering up to the podium to announce the first pick when his phone buzzes.
Jay Glazer of Fox just tweeted who the Kansas City Chiefs will take.
Buzz again.
Adam Schefter of ESPN tweeted the pick too. Buzz! Buzz! Buzz! Jason La Canfora of CBS Sports and Peter King of Sports Illustrated and NBC and Gregg Rosenthal of NFL.com just tweeted their own confirmations of the pick, all in the time it took for the commissioner to get a card from a runner and figure out how to pronounce "Joeckel."
Is it Joeckel like "Jock-ell" or Joeckel like "Joke-ell"?