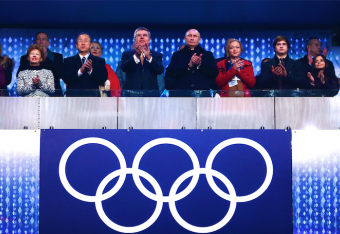 Paul Gilham/Getty Images
The opening ceremonies to the Sochi Olympics began with a young girl looking wide-eyed into a camera. The girl then lifted up like a kite and took off into the Russian night sky.
That girl's adventure included an amazing display of lights and sounds, culminating in brilliant twinkling snowflakes coming together to form the five Olympic rings, hanging high above the adoring crowd.
Well, four of the five rings. Like much of the preparation for the Sochi Olympics, the final ring didn't quite finish in time.
The opening ceremonies, highlighted by the parade of nations and a theatrical glossing of Russia's rich and tumultuous history, with lots of ballet, boats and an abundance of rollerskating, took place on Friday—don't let the tape-delayed content on NBC fool you into thinking its broadcast of the event is live—culminating in the lighting of the Olympic torch by Russian Olympic legends Vladislav Tretiak and Irina Rodnina.