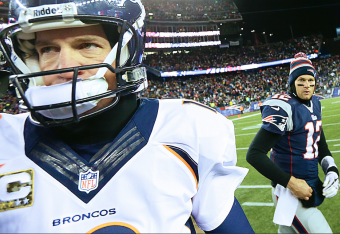 AP Images/Steven Senne
Tell me if you've heard this already, but Tom Brady and Peyton Manning are playing in a football game this weekend. Yeah, I know, it feels like their involvement in the AFC Championship Game has been criminally underreported, but that's where they'll be, and the winner gets to take his team to the Super Bowl.
Despite not playing in the same division and not even facing each other all that much in the playoffs over their respective Hall of Fame careers, Brady and Manning might have one of the biggest personal rivalries in sports today.
Is it a rivalry? The two quarterbacks genuinely seem to like each other. At the very least, they respect the hell out of each other and never say an ill word publicly, which takes a bit of the sting out of any sports rivalry.
Contemporaries, sure, but rivals? You bet.