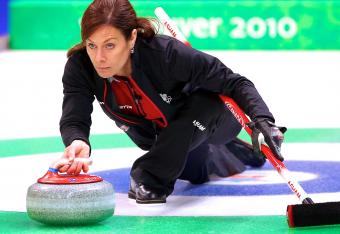 Cameron Spencer/Getty Images
The Winter Olympics are just days away, which means it's time, America, to pull those brooms out of the garage and get sweeping. Curling is back!
Curling, the Olympic sport where competitors alternate sliding round stones down a sheet of ice to earn points for whoever gets closest to the middle of a large target area, took the world by storm four years ago during the Winter Games in Vancouver.
Curling has everything you would want in a winter Olympic sport. Every throw—is it a throw or a toss…or a push…a slide…? I should probably know this—provides drama, especially as the competitors near the completion of each end*.
(*A quick primer/reminder: Each match consists of 10 ends, which is similar to an inning in baseball. Teams alternate sliding eight rocks down the sheet to see which team finishes closest to the center. Every stone closer to the center than the opponents' nearest stone earns a point. The team with the most points after 10 ends wins.)