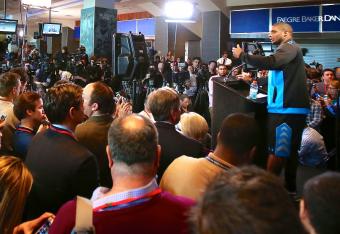 Brian Spurlock/USA Today
What if Jadeveon Clowney announced two weeks before the NFL Scouting Combine that he was gay? What if LeBron James came out in a national magazine spread during last season's playoffs?
The buzz around either announcement would have been enough to make P.T. Barnum blush.
Now, make no mistake about the fact that Michael Sam and Jason Collins sharing headlines during the same week—the former for publicly announcing he is gay in advance of the NFL combine, the latter for signing an NBA contract nine months after his own announcement—is enormous news in the world of American sports.
Two openly gay athletes in male team sports making history at the same time is massive, in our extremely insular world of sports and our society around us.