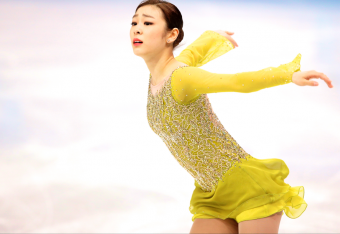 AP Images
In figure skating circles, defending Olympic champion Yuna Kim of Korea is simply known as "The Queen." During Wednesday's short program, she performed like royalty.
The 23-year-old Kim is a grizzled veteran in the world of ladies' figure skating, and while she came into the Sochi Games as one of the favorites, she has been relatively out of practice, essentially retiring after winning gold in Vancouver before coming back four years later as if she never missed a day.
Terry Gannon, calling the event for NBCSN with Tara Lipinski and Johnny Weir, asked, "How do you step away, then come back like Michael Jordan did, and not lose a step?"
It was incredible. To be away from competitive skating at this level like Kim has only made her short program that much more impressive. She was essentially flawless, scoring a 74.64 to set a mark none of the skaters to follow her were able to match.