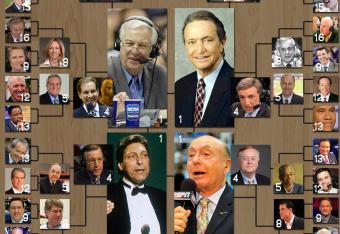 B/R Illustration
Every March, this nation becomes crazy—dare I say mad—for brackets. It's not just the NCAA tournament bracket that gets people nuts. People just love to see things in brackets. Heck, for two years, I did a bracket of all the best brackets, and people seemed to love debating which bracket would win that make-believe bracket.
This bracket, however, is probably my favorite (other than the actual basketball bracket) I have ever filled out. The top 64 NCAA college basketball announcers of all time, here, in one bracket-style ranking.
We have done single-sport announcer lists before, usually running a top 25 or top 50 to include as many announcers as possible. With this being the college basketball list, we couldn't resist giving each announcer his or her own seeding.
(Before you get too far along in each matchup, know that our bracket is just for seeding—the results would be straight chalk.)