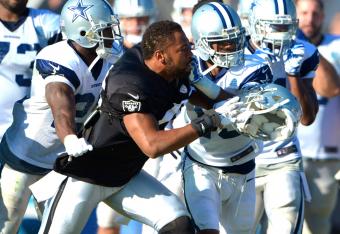 Kirby Lee/USA Today
The National Football League, as an organization, trades in violence.
No matter how many rules the league puts into place to curtail injuries and prolong the careers—and lives—of its players, the NFL finds some other ways to justify the use of violence as a means to promote its product.
There's a reason for that. Big hits still make all the highlight shows, even with the growing realization that each crushing blow is doing irreparable damage to both the player getting hit and the one doing the hitting. The NFL athlete is unlike any other in professional sports—a professional gladiator through and through. And the league is banking on that…quite literally.
That's why situations like what happened this week at a joint practice between the Dallas Cowboys and Oakland Raiders is met with raucous cheers from the fans in attendance. Two teams duking it out on the field after a huge hit knocked one player to the turf, all right in front of the fans? That's NFL manna. That's why the fans show up to preseason sessions in the summer. That's what it's all about.