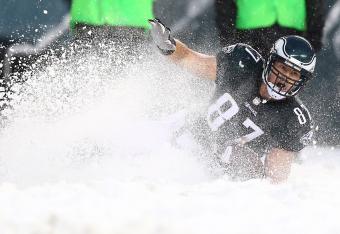 Elsa/Getty Images
Crazy.
That's the word many players used to describe the snow on Sunday that surprisingly blanketed much of the Northeastern United States, covering stadiums from Green Bay to Washington, D.C. and several places in between.
Philadelphia Eagles linebacker Mychal Kendricks told reporters after the Eagles' 34-20 victory over the Detroit Lions—via CSNPhilly.com's Geoff Mosher—"It was craaaaaa-zy. You always see games in snow on TV. You play games in Madden in snow. I always thought it would be fun, but I never really wanted it. I had played in rainy games, and they were terrible."
"It was so freakin' fun."
It was so freaking fun, that it has people (read: this guy) excited for more. More snow. Playoff snow. Super Bowl snow.