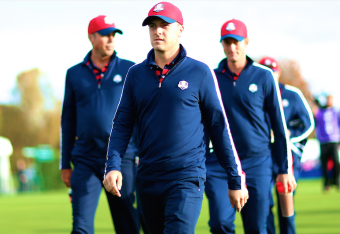 Getty Images
In America, we are used to being the best at everything. Frankly, even when we aren't actually the best, people in this country just spout off unprovable sentiments like "America is the best country in the world" and, sure, why not go with that, because it sounds just about as awesome as we know America to be.
We're the best at everything, especially when it comes to sports. (Except soccer. We aren't the best at that. And men's tennis, international hockey and a bunch of other Winter Olympic sports we try not to care too much about because we don't win.)
But in everything else, America rocks. We're the best.
Except golf. We are not the best at golf. Not this year. Not anymore. Does that mean it's time for American golf fans to embrace an underdog role? Could the Ryder Cup be looked at more like…the World Cup?