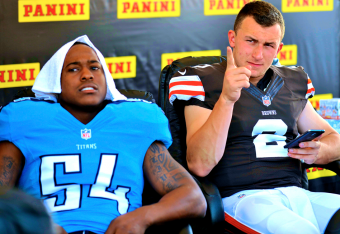 Gary A. Vasquez/USA Today
It was five o'clock in the morning on a Tuesday in July, so I did what millions of Americans do when they roll out of bed in the summer—I went searching for a football fix.
Before the coffee had even started brewing, the search engine was churning to find the latest NFL news and notes. In hopes of a little home cookin', I jumped over to NFL.com to see what was on the fire.
This has to be some kind of joke, right? Training camp starts this week. This week! This can't be all there is to talk about in the NFL right now.
Roger Goodell has to be behind this. He's been too damn quiet about his 18-game regular season this year, planting the seed deeper and deeper into our football consciousness until the idea sprouts organically, like we, as a collective fanbase, somehow thought of it ourselves.