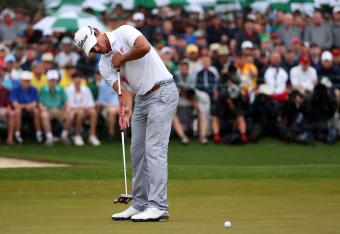 Andrew Redington/Getty Images
The USGA and R&A have officially agreed to adopt Rule 14-1b of the rules of golf, which, "prohibits anchoring the club in making a stroke. The new Rule will take effect on January 1, 2016, in accordance with the regular four-year cycle for changes to the Rules of Golf."
There's more, via USGA.org:
Sadly, that comprehensive process has not been enough for the PGA Tour, which has yet to fall in line with the other governing bodies of golf. In fact, the PGA Tour's statement smacks of a child yelling at his parents as he walks up the steps to his room. Don't tell me what do to!
The PGA Tour statement, in part, reads like it was transcribed through the gritting teeth of commissioner Tim Finchem.