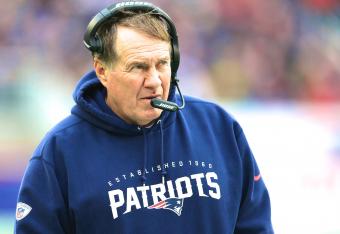 Getty Images
"Look Billy! (Hears fizzy squeaking sound...) Commissioner says every time a ball leaks, a Patriot gets his wins."
What would be the NFL equivalent of Zuzu's Petals? TomTom's UGGs? And is the ball guy in New England named Clarence?
Moreover, what would the NFL look like if Bill Belichick wasn't around? How different would the last 15 years of football look if not for the contemptuous grouch in the cutoff sweatshirt?
What if Belichick wins the Super Bowl, looks at all the hundreds of media types from around the world asking him about football inflation percentages this week like it was some threat to national security and says, "I suppose it'd been better if I had never been born at all."