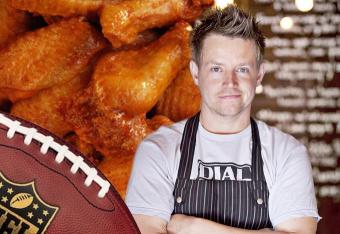 Celebrity chef Richard Blais and his favorite Super Bowl snack.
B/R Illustration
Super Bowl Sunday is one of the two best food holidays of the year. When done right, Thanksgiving is still the tops in terms of combining good food with good football, but Super Bowl Sunday isn't bogged down by dry birds, unnecessary side dishes or the Dallas Cowboys.
If Super Bowl Sunday is the best day for food in sports, what is the best Super Bowl snack? It's a simple question with a seemingly endless number of delectable choices.
On our Bleacher Report Radio show this week, Josh Zerkle and I employed an expert opinion in celebrity chef and Top Chef winner Richard Blais to figure out the answer.
Blais not only has a number of restaurants across the country, but he's become an expert in the sport of competitive cooking, both as a frequent contestant and a judge. Who better, then, to help us pick the best Super Bowl food for your Sunday spread?