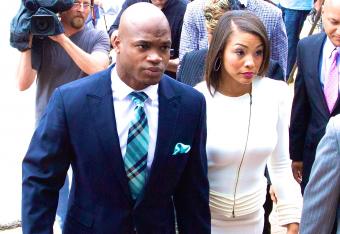 Bob Levey/Getty Images
Ray Rice was not a victim of NFL double jeopardy. Ray Rice committed a heinous, criminal act and has paid the price for it. Literally. Rice lost his job. He lost any chance at a paycheck for the foreseeable future. He lost any respect he had in the community. He lost a lot. And deservedly so. But he is not—repeat, not—a victim of double jeopardy.
He's a victim of triple jeopardy.
Having previously suspended him for two games, the NFL suspended Rice indefinitely on September 8, the same day the Baltimore Ravens cut him, despite team owner Steve Bisciotti going on record several times after the first video surfaced saying he would stand by the embattled running back.
Eight days after Rice was ousted from the NFL, the NFL Players Association filed a formal request for appeal on his behalf, suggesting that the league suspended the running back twice for the same offense. (Therein lies the double jeopardy claim.)