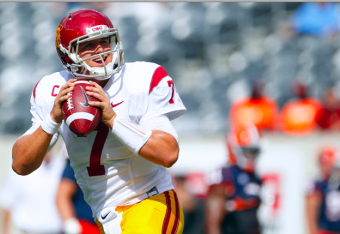 For all the talk of Matt Barkley's pro day, it ended up much ado about nothing.
The supposed media aftermath of Matt Barkley's pro day had been preconceived as if his life story was being penned by Disney's finest screenwriters. When Barkley's college career ended on Dec. 27, his pro day was set to be an event worthy of a motley teenaged hockey players or golden retriever receivers. His comeback was to be epic.
The media was set on both sides of the rhetorical battlefield. Some (like NFL Network's Charles Davis and ESPN's Skip Bayless) started loading coal into the engine of the Barkley hype-train. Others (like NFL Network's Daniel Jeremiah and myself) attempted to pump the breaks on this meteoric rise before a group of oil drillers needed to go nuke the sucker.
Metaphors aside, a closer look at Barkley's pro day reveals a lot of what we already knew about him and a lot about who he may end up playing for at the next level.