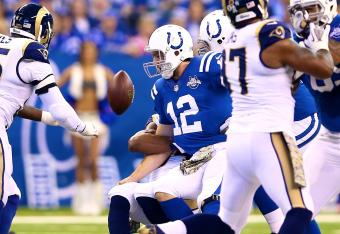 "7-2 is the target."
That's what Craig Kelley, Indianapolis Colts publicist, tweeted before the Colts' game against the then-3-6 St. Louis Rams. The Colts, 13-point favorites per Bovada, just needed to take care of business at home to stay in the hunt for the AFC's No. 2 seed, a playoff bye and home-field advantage.
They missed the target.
The Colts got steamrolled by the Rams 38-8 Sunday in a game that wasn't even that close. A complete beatdown, all of the Colts' flaws were ruthlessly exposed: poor offensive line play, an ineffective ground game, a lack of depth at wide receiver, and a defense that can't get it done up front.
Worst of all, the Colts coaches are either seeing their roster through rose-colored glasses or are too proud to adapt their failing systems to the talent they have.