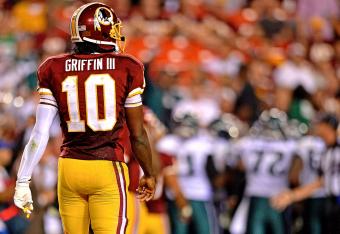 Robert Griffin III looked slow.
His passes looked slow, his rollouts looked slow, even his jogs back to the huddle looked slow. The normally lightning-fast Griffin looked slow making decisions and slow pulling the trigger.
Whenever he tried to sprint, he did a hop-and-jog step to get going, like a sales manager playing pickup hoops at the Y. Had Griffin been wearing his famous Superman socks, their capes would've been hanging limp at his ankles.
In the waning minutes of the third quarter, the visiting Philadelphia Eagles led Griffin's Washington Redskins 33-7. What started as a celebration of the return of the most electrifying player in football became a prime-time TV meltdown.