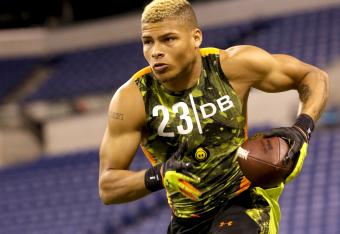 Think Honey Badger cares yet?
Tyrann Mathieu electrified college football in 2011 as he helped lead Louisiana State toward a spot in the BCS Championship Game. During that campaign, Mathieu earned a seat in New York as a Heisman Trophy finalist and took home the Chuck Bednarik Trophy as the country's best defensive player.
2012 was not as prolific a year for the cornerback.
Mathieu was dismissed from the team in August for an undisclosed violation of team rules. Sports Illustrated's Pete Thamel wrote in October that Mathieu had failed multiple drug tests, spent time in rehab and endangered his eligibility by receiving improper benefits from a night club.
Mathieu disputed the report, accusing Thamel of both bribery and harassment. He did not play football in 2012 but remained at LSU as a student—hiring an agent in December and forfeiting any eligibility he may have had.