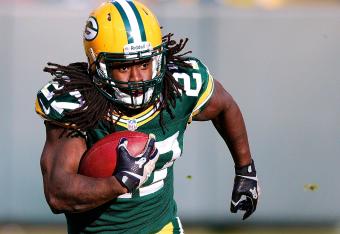 Getty Images
With leaves turning and snow falling across America, it's time for the NFL seasons to change, too.
With just two weeks to go before Thanksgiving and the regular season more than halfway over, the passing-friendly warm-weather games of September are giving way to the head-down, grind-it-out wars of November and beyond.
Last week, we looked at how this season's top NFL teams are moving the chains with aggressive power run attacks, bucking a decades-long trend toward passing.
In Week 9, for instance, 12 running backs piled up at least 100 yards rushing, per Pro-Football-Reference.com—18 of 26 teams went over 100 yards rushing. Fourteen of those teams also cracked 150 ground yards.