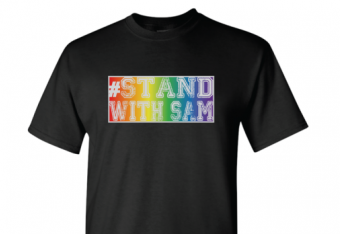 MichaelSam.com
A little less than a month after publicly coming out as gay, former Missouri defensive end Michael Sam is finding new ways to commodify his newfound fame.
Sam announced a new personal merchandise line over the weekend on his Twitter feed. The items, which include numerous T-shirts and buttons, are adorned with #StandWithSam and #SamStrong slogans that have been popularized by fans since his announcement.
Designs for T-shirts include pictures from his time at Missouri, allusions to the gay-pride flag and a plain-white colorway with a simple #StandWithSam slogan.
Most of the items are in the $20-plus range, and Sam announced a portion of the proceeds will go to benefit at-risk youth in the St. Louis area: