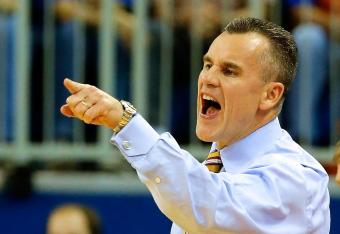 Getty Images
Delta Airlines is winning over America, one canceled flight at a time.
Many of us have experienced delays while attempting to travel the less-than-friendly skies, although rarely does one see the kind of flight cancellation that occurred at an airport in Florida on Monday afternoon.
According to Morgan Watkins of The Gainesville Sun, a plane full of travelers at the Gainesville Regional Airport were bumped from their flight in order to secure travel for the University of Florida's men's basketball team.
Maintenance issues had delayed the Gators' flight to Storrs, Conn., and with time running down before the team's 7:00 p.m. EST game against the University of Connecticut, Delta decided to cancel a commercial flight to Atlanta and use the plane as a charter aircraft for the team.