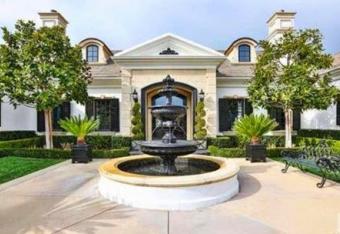 via The Real Estalker
Less than five years after buying a house, Wayne Gretzky and his wife Janet are looking to flip it for a huge profit.
The couple bought their Thousand Oaks, Calif. house for $2.765 million back in November 2009. Now the Gretzkys have put the house on the market for $10.5 million, according to The Real Estalker. If they can find a taker, that would be an incredible deal on their end.
Gretzky's house has plenty of room. It has five bedrooms and 6.5 bathrooms, and they have put plenty of work into making it look nice. Check out some pictures of the house:
There is also a detached pool house on the property. Although the number of bedrooms and bathrooms in the pool house is unknown, there are plenty of awesome features that go along with it. It includes a fitness room, a poolside lounge pavilion, a kitchen and a poolside dining area with an outdoor fireplace.