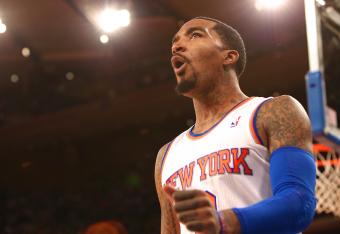 Getty Images
Wipe that sweat off your brow, New York Knicks fans. Stop losing sleep at night. Collect lucky rabbits' feet no more. J.R. Smith has no plans to stop shooting, so you can rest easy knowing all is right with the world.
"My jumper just hasn't been there," Smith said, per the New York Daily News' Peter Botte. "That's situations where I got to make my teammates better, get guys open shots and keep driving to the hole. But one thing, I'm not going to stop shooting."
Phew, that was a close one—for everyone who doesn't know "Swish," that is.
Smith shoots. Almost exclusively. He was brought to New York midway through the 2011-12 campaign because he could shoot. Which he has. And score. Which he hasn't.