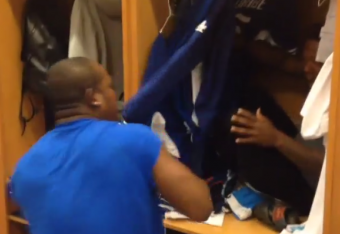 hanleyramirez13/instagram
Hanley Ramirez is not above popping out to scare one of his teammates. Also, we now know he can fit comfortably into a locker.
MLB Fan Cave (h/t David Brown of Yahoo Sports) spotted visual evidence that things are fairly light in the Dodgers locker room at the moment.
Apologies for the spoilers, but the following Instagram video features a loud booming "Boo!" So you might want to turn the sound down, sit back and enjoy Juan Uribe's reaction:
Ramirez is listed as 6'3" and 225 pounds, so he isn't a small man by any means. Still, he can play a fine game of hide-and-seek.