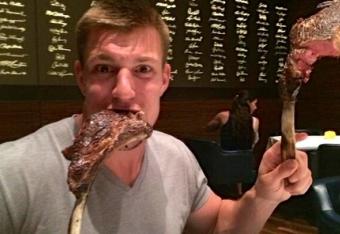 Twitter @RobGronkowski
Dual-wielding steaks: the Rob Gronkowski way.
Calling Rob Gronkowski a "meat and potatoes kind of guy" is like noting fish are into "that whole water thing." As common knowledge as this may be, it's still difficult to appreciate how they breathe.
The latest and greatest example of Gronkowski's carnivorous ways surfaced on Monday night. The New England Patriots tight end grabbed two giant hocks of meat-on-the-bone and tweeted out a dinner picture that would make a Cro-Magnon man blush.
Take it in, football fans. In between painting in caves and fleeing for their lives, this is what our ancestors did. They wore dress-casual V-necks and dual-wielded steaks.