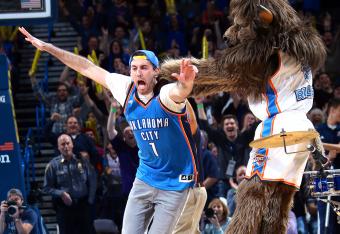 Getty Images
One minute, you are standing midcourt, hugging the Thunder mascot after winning $20,000; the next, you are contemplating never seeing a dime of that money.
Such is the plight of Cameron Rodriguez, who dropped a stunner from half court on Nov. 18, netting him a cool 20 large that unfortunately brings his status as an NAIA amateur athlete into question.
Bloomberg News' Eben Novy-Williams (h/t Yahoo! Sports) reports the 23-year-old who plays basketball at Southwestern College in Winfield, Kan., is working diligently to find out if his newfound fortune can be used towards his tuition.
As a National Association of Intercollegiate Athletics athlete, Rodriguez "cannot use (his) sports ability or fame for financial reward," via Bloomberg.