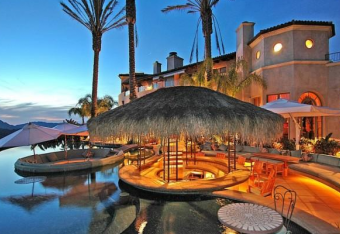 @Trulia
After agreeing to a five-year, $118 million deal with the Miami Heat earlier this month, Chris Bosh has decided to sell his mansion in the Pacific Palisades neighborhood of Los Angeles.
Los Angeles Times reporter Neal J. Leitereg (h/t Trulia.com) reports that the Heat forward is putting his 10,755-square-foot residence on the market for a healthy $14.5 million.
If $14.5 million sounds like a hefty ask, remember, we're not talking about your average McMansion here. Bosh's home has six bedrooms, eight baths, a large infinity pool with a swim-up bar and an island picnic area. Buyers are also getting a tiki hut, an outdoor pizza oven (!), a theater and an in-home billiards hall.
Trulia.com reports the home has an exercise facility, separate quarters for staff and unobstructed views of the Pacific Ocean, which one must agree is a fine ocean indeed.