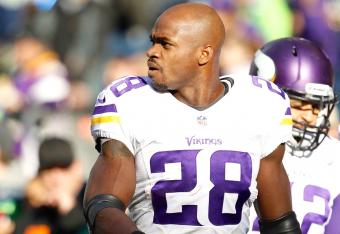 USA Today
Could Purple Jesus end his career as Blue Jesus?
It's still likely a very long way out for a man who has proven to be part machine, but Adrian Peterson, who is already the Minnesota Vikings career rushing leader (by far), said on Thursday, in a moment of honesty with ESPN Radio, that he has thought about playing with the Dallas Cowboys at some point in his career (via Fox Sports Southwest's Louis Ojeda Jr.):
Now, before fans in Minnesota start hyperventilating and worrying about losing one of the only players who makes Vikings games worth watching this season, it's important to take this with a grain of salt.
Peterson, 28, was born in Palestine, Texas, grew up as a Cowboys fan and simply answered a question truthfully. There's nothing more to it than that. This isn't a rumor—it isn't speculation that he wants out because of the Vikings' 3-8-1 season. It isn't anything.