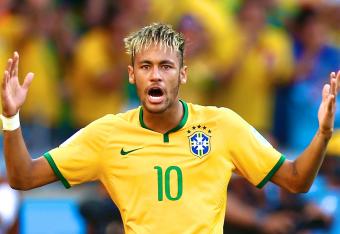 Getty Images
Brazil forward Neymar, who missed the 7-1 semi-final defeat to Germany after picking up an injury, gave up on watching the game after Germany scored their seventh goal, according to reports in Spain and Portugal.
According to the reports, Neymar watched the game with his family at home, but as the goals rained in and Brazil's dream died, he switched it off at 7-0.
In a quote taken from Marca (Spanish), he said: "Ya no quiero ver esta mierda! Vamos a jugar poker"—which translates roughly to "I don't want to watch this s--t! Let's go and play poker."
That meant he missed the goal scored by Oscar, although it would have been scant consolation.