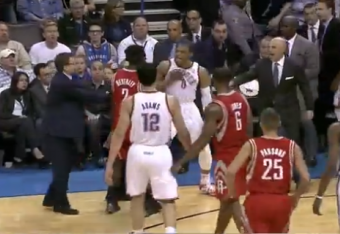 YouTube
Houston Rockets point guard Patrick Beverley changed the tenor of last season's Western Conference playoffs when he dove at Russell Westbrook as the Oklahoma City Thunder point guard called a timeout during their first-round series. The play resulted in season-ending surgery for Westbrook, who had yet to miss a game in his NBA career.
They say those who haven't learned from history are doomed to repeat it. That being the case, Beverley seemingly hasn't learned his lesson, as he tried the same trick during Tuesday's game between Houston and Oklahoma City, sparking a brief fracas.
DailyThunder.com's Royce Young did his best to describe the surreal scene in Oklahoma City:
The two point guards later ended up scrambling on the floor for a lose ball, leaving Westbrook once again heated.