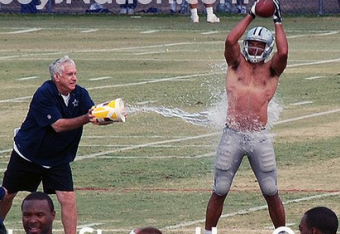 CowboysNation.com
When Mike Pope tells you to pop your top and catch some footballs, you don't ask questions.
You also don't ask questions when he starts throwing ice water on your back. That's just Pope applying his arcane magic.
The Dallas Cowboys tight end coach works in mysterious ways, and he put on his latest clinic on Wednesday when he began sluicing the Dallas pass-catchers with cups of ice water.
Deadspin's Sean Newell spotted video of the drill, which takes place for important "football reasons."