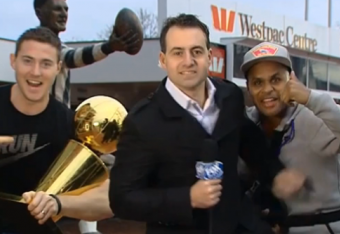 FootyJunkie
Julian de Stoop was just trying to do his job.
The Fox Sports News correspondent was in Melbourne reporting from outside the headquarters of AFL club Collingwood when two punks ran into his live shot. They were carrying a golden obelisk and yelling about some guy named Larry, and they most certainly were not welcome.
Irritated but unruffled, De Stoop gave the nearest chap—a tiny little cad with an arm cast—a measured shove.
"Get off, boys," De Stoop muttered. "Get off."