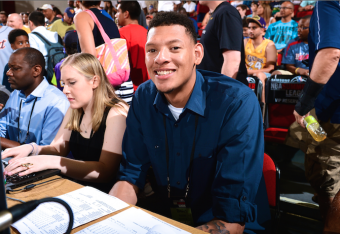 Getty Images
Former Baylor basketball star Isaiah Austin had his dreams of becoming an NBA player cut short after being diagnosed with Marfan syndrome just days before the 2014 draft. Per Baylor's official statement, "Marfan syndrome is caused by a genetic mutation that leads to problems in connective tissues throughout the body."
Despite the setback, Austin, 20, may still be affiliated with the league once his education is complete in Waco.
Austin told TMZ.com that he has been offered an NBA job by commissioner Adam Silver, with the stipulation that he finishes his degree at Baylor. He also said he's already doing a little work now for the NBA Cares program.
Silver added an unexpected twist to the draft that made Austin's night far brighter. Just days after learning of the diagnosis that ended his basketball career, Austin heard his name called, having been made an honorary selection by the NBA.