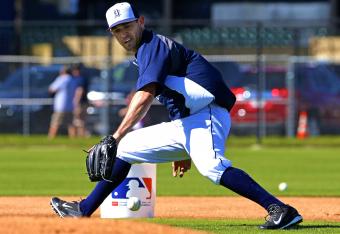 AP Images
Ian Kinsler will enjoy a new start with the Detroit Tigers this season, but not before taking some parting shots at his old team.
According to ESPN The Magazine's Robert Sanchez, Kinsler had some interesting things to say regarding the Texas Rangers, including expressing a desire for them to finish winless in 2014.
"I hope they go 0-162," Kinsler said. "I got friends, and I love my friends, but I hope they lose their (expletive)."
After eight productive seasons in Texas in which Kinsler earned three All-Star nods, the second baseman was dealt to the Tigers in exchange for first baseman Prince Fielder this offseason.