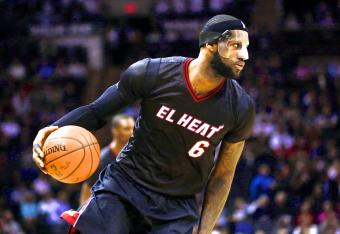 USA Today
LeBron James of the Miami Heat may have four MVP awards and two NBA championship rings, but even the best player in the league has his kryptonite.
Following a 111-87 loss against the San Antonio Spurs on March 6—Miami's second straight loss after an eight-game win streak—James reiterated that he's "not a big fan" of sleeved jerseys.
"I'm not making excuses, but I'm not a big fan of the jerseys," James told reporters. "Not a big fan of them. I have to figure something out the next time I have to wear the short-sleeved jerseys."
Both teams wore the sleeved uniforms on Thursday night, but LBJ was the guy who couldn't get anything going. He finished with just 19 points on 6-of-18 shooting from the floor, missing all three of his attempts from long range. It was his lowest offensive output in nearly a month.