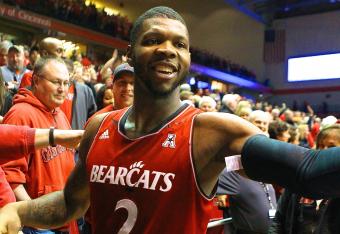 Getty Images
Cincinnati and Louisville split their two regular-season meetings, with the two games decided by a combined four points. But in a third, less publicized battle between the American Athletic Conference co-champions, a victory for the Bearcats on Saturday will make their lives a whole lot easier in the conference tourney.
After both sides completed their regular seasons with wins Saturday, Cincinnati earned the No. 1 seed in next week's AAC tournament by correctly calling the seed-determining coin toss:
While a coin toss is less than ideal and has been understandably mocked across social media, the AAC was put in a difficult spot. The Bearcats and Cardinals not only have matching 15-3 records in the conference but also 26-5 records overall.
One could easily point out numerous ways the decision could be made to reflect the on-court product. The Associated Press rankings, nonconference strength of schedule and even point differential are just a few possibilities—ones that at least aren't as silly as a coin toss. Ryan Fagan of Sporting News was one of many to derisively scoff at how Cincinnati won out: