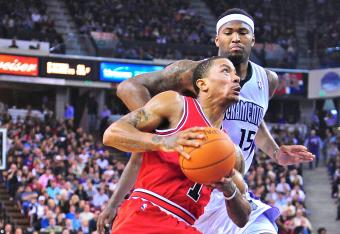 USA Today
Too soon, Boogie. Too soon.
DeMarcus Cousins sat out of the Sacramento Kings' loss to the Oklahoma City Thunder on Tuesday with a sprained right ankle he suffered against the Golden State Warriors on Sunday. But don't worry; he was all giggles about his status for Friday against the Los Angeles Lakers, according to News10's Sean Cunningham:
Derrick Rose must have felt that burn from Chicago.
The Chicago Bulls recently announced that their point guard underwent successful surgery to repair a torn meniscus in his right knee and would miss the remainder of the 2013-14 season. This comes after Rose missed all of 2012-13 rehabbing a torn ACL in his left knee.