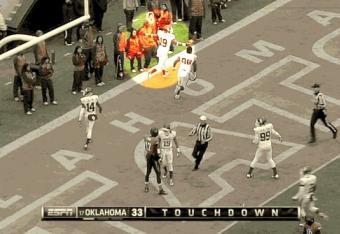 ESPN
If we have learned anything from the world of football in the past month, it's that you should always keep your arms and legs out of the field of play if you aren't actually in the game.
An Oklahoma State cheerleader is the latest person to be admonished for sideline antics.
The Oklahoman's John Helsley (h/t ESPN) reports Jarid Atkinson, a member of Oklahoma State's cheerleader squad, will be disciplined after he was caught visibly sticking his foot out in what seemed to be an effort to trip up an Oklahoma player this past weekend.
The Sooners' Eric Striker had just secured a touchdown in the final moments of an eventual 33-24 win over the Cowboys.