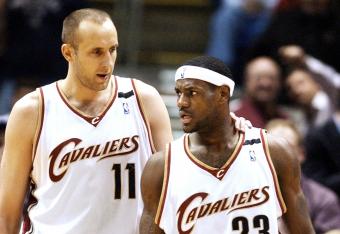 AP Images
Unless he ends up re-signing there this summer, LeBron James will likely never live down the pain and torment his much-ballyhooed 2010 departure caused the Cleveland Cavaliers—the franchise as well as the city itself.
But for one night at least, King James' presence was a welcome one indeed.
As very own Ethan Skolnick reported earlier, LeBron decided he would, in fact, be in attendance for the jersey retirement of longtime friend and teammate Zydrunas Ilgauskas when Cleveland took on the New York Knicks Saturday night.
James and Ilgauskas played together for eight seasons all told: seven with the Cavs and one more with the Miami Heat, with whom Big Z signed shortly after LeBron's infamous "Decision."