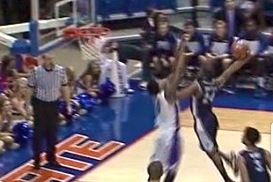 Instagram
This may not just be a candidate for Dunk of the Year. It looks like a winner.
Nevada senior guard Deonte Burton took off eight feet from the basket and rocked home a one-handed jam over Boise State's Ryan Watkins on Wednesday night in what could stand to be the nastiest dunk of the 2013-14 college basketball season.
Video of the posterization was uploaded to Instagram by the Mountain West Conference (h/t Rob Dauster of College Basketball Talk). Burton is 6'1", but took Watkins (6'9") to the cup with zero hesitation.
General rule: When you dunk on your opponent and their fans scream "Ohhh," you know you did a bad, bad thing.