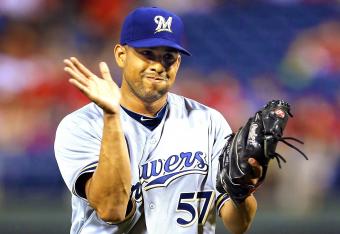 Getty Images
Spring training is a time for baseball players to get ready for the season while playing in warm weather, but there are certain risks a player must deal with while at camp.
Milwaukee Brewers reliever Francisco Rodriguez was the victim of a freak injury at the Cactus League this week, and he can thank the Arizona desert for putting his status up in the air. The Milwaukee Journal Sentinel's Todd Rosiak shared the details of the odd injury:
The Milwaukee Journal Sentinel's Tom Haudricourt reported Rodriguez was barefoot at the time of the incident.
Freak injuries happen in sports every year. Luckily for him, it doesn't appear to be a serious injury: