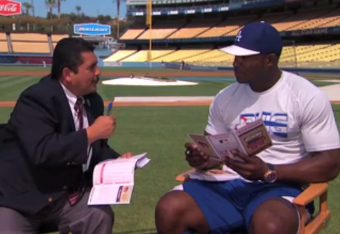 YouTube
Jimmy Kimmel possesses a small arsenal of personalities with which he conducts his comedy, the most ridiculous being his security guard, Guillermo.
The small Mexican man appears nightly on Jimmy Kimmel Live!, participating in bits and interviewing celebrities.
His latest interview involved a "Yas-Clusivo" with Los Angeles Dodgers outfielder Yasiel Puig, who sat down with Guillermo to talk about his upcoming All-Star bid.
Right off the bat, the interview took a turn for the weirder.