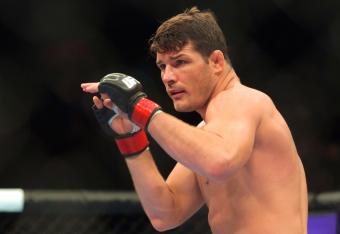 USA Today
Perennial UFC middleweight contender Michael Bisping has never been a fan of testosterone replacement therapy, but his personal opinion has created a serious grudge against Vitor Belfort.
In light of the Nevada State Athletic Commission banning the controversial treatment on Thursday, the Brazilian slugger has been feeling the heat for withdrawing (or not?) from his title fight against Chris Weidman and refusing to disclose his drug test results from earlier this month, per MMA Fighting.
Specifically, Belfort's lawyer, Neal Tabachnick, told various media outlets the results were "not relevant" since his client was no longer applying for a fighter's license in Nevada, per MMA Weekly.
"The Count" doesn't believe that excuse is good enough, and that's putting it nicely.