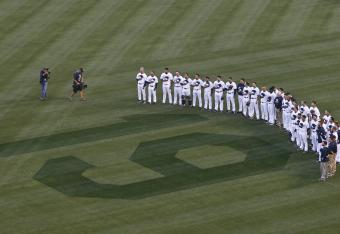 Lenny Ignelzi/Associated Press
Neither Major League Baseball nor Fox paid tribute to the late Tony Gwynn at the 2014 MLB All-Star Game this week. That exclusion led to a bit of backlash for both sides.
Fox Sports' Ken Rosenthal took to Facebook to post a joint statement on why Gwynn's memory was not honored during the game. Given the fact that many members of the baseball family have passed away this year, they did not want to "slight anyone by singling out one individual."
There is a simple solution: honor everyone who has passed away recently.
Sully Baseball found a way to pay tribute to baseball greats who have passed away recently with an "In Memoriam" video.