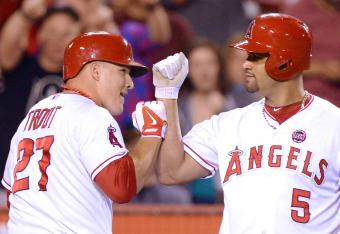 Getty Images
Many players would be thrilled to be compared to Los Angeles Angels outfielder Mike Trout right now, but that comparison doesn't go over well for the phenom's teammate, Albert Pujols.
Trout has put up incredible numbers through the first two years of his career. His numbers have been so good that he has made the American League All-Star team and finished runner-up in the AL Most Valuable Player race in both seasons.
Who wouldn't want to be compared to that?
If anyone has the right to be offended by that comparison, it's the man who has been called the best player of his generation.