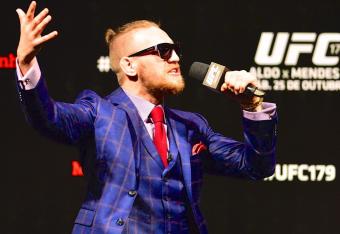 USA Today
Not every American sports fan knows Conor McGregor yet, but he's a household name in Ireland and to UFC fans in the U.S.
With his brash talk and delivery that has drawn comparisons to Seattle Seahawks cornerback Richard Sherman, as well as parallels with sporting greats Muhammad Ali and Michael Jordan, McGregor is becoming a bigger name in the U.S. every day.
In 2014, Sherman became the most notorious trash-talker in sports. McGregor is now writing the guide for the brash athlete. The UFC featherweight star refuses to call his way trash talk, though. He prefers "truth talk." McGregor sees an opponent's weakness, calls it out, visualizes how to exploit it and then executes his vision.
When he finishes training in Dublin and comes to Boston to fight Dennis Siver on January 18 at TD Bank Garden, the MMA world will again be watching to see if The Notorious Conor McGregor can back up his predictions.