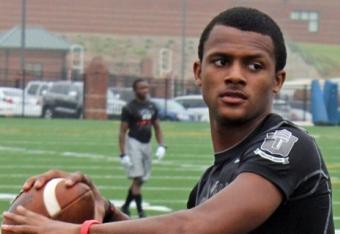 247Sports
Deshaun Watson put pen to paper Thursday, taking one of his final steps toward a long-awaited career at Clemson. The 6'3", 200-pound quarterback signed his financial agreement papers with the university at a high school ceremony, according to Scout.com writer Hale McGranahan.
The Gainesville High School (Ga.) star intends to arrive on campus in January and follows suit with a new NCAA legislative rule that allows schools to award financial aid to players who plan to graduate early and enroll mid-year. The signing ceremony was a long time coming for Watson, who committed to the Tigers during his sophomore year.
"Deshaun's one of those kinds, he's been good for so long that you have to look for small improvements," Gainesville coach Bruce Miller told McGranahan. "Nothing just jumps out at you, but his reading of the defenses this year, his command of the game on the field has gotten better and better."
The 4-star prospect garnered heavy national interest, fielding offers from Georgia, Ohio State, Oregon and Alabama. He is ranked the country's No. 1 dual-threat quarterback and No. 43 overall prospect by 247Sports.