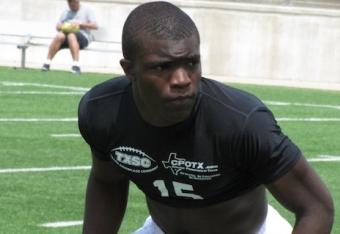 San Antonio CB Arrion Springs is now a 5-star recruit. (247Sports)

Nearly midway through high school football season, 247Sports has unveiled updated rankings for the 2014 recruiting class. The list features a trio of talented prospects freshly dubbed as 5-star recruits.
The three players who made a leap come from different corners of the country and, unsurprisingly, they each hold a sizeable collection of scholarship offers. Defensive lineman Gerald Willis (New Orleans, La.), linebacker Christian Miller (Columbia, S.C.) and cornerback Arrion Springs (San Antonio, Texas) are the newly anointed top-tier recruits.
Now that this defensive group has been designated as "the best of the best," let's take a look at what makes each of them special and where their collegiate recruitment currently stands.
Gerald Willis